If you're looking for the perfect place to keep the spark alive in your relationship, look no further than Lancaster, PA. This charming destination has many romantic activities that reignite your passion for each other.
From outdoor activities that will get your heart racing to wine tasting that will tantalize your taste buds, there's something for every couple to enjoy. Whether planning one of your romantic weekend getaways or just wanting to surprise your partner with a special day out, Lancaster, PA, is the ideal destination.
So pack your bags and escape to this enchanting location for an unforgettable experience that will leave you feeling closer than ever.
1. Romantic Hot Air Balloon Ride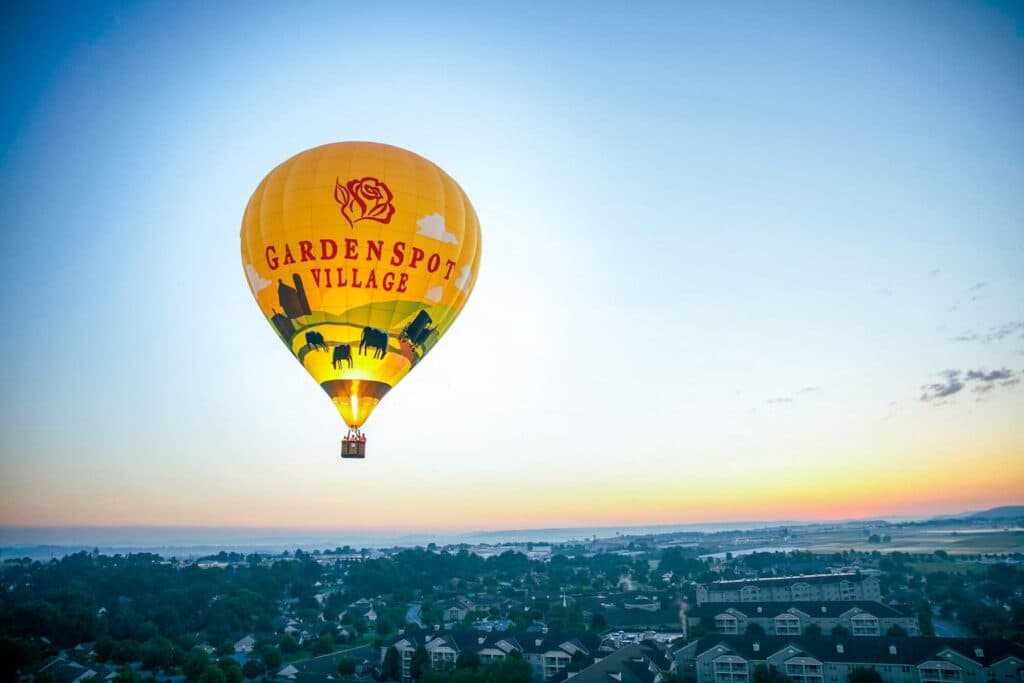 Embark on a thrilling adventure and experience the breathtaking beauty of Southeastern Pennsylvania with your loved one like never before! With Lancaster Balloon Rides, operated by The US Hot Air Balloon Team, you can soar high above the picturesque countryside of Pennsylvania, New York, New Jersey, and Maryland.
With over 8 million visitors to Lancaster County yearly, there's no better way to explore the area than by hot air balloon. Get ready to witness stunning landscapes; every ride is a unique and unforgettable journey you'll cherish forever. Take advantage of the chance to create memories that will last a lifetime – book your hot air balloon ride with Lancaster Balloon Rides today!
2. Cozy Cornfield Banquet

Did you ever think a cornfield banquet would be part of romantic getaways in Lancaster, PA? It's probably unsurprising since you're visiting Amish Country and want to spend quality time with your significant other.
In Lancaster, PA, romantic activities often involve food, as it is locally believed that the key to winning your partner's heart is through their stomach.
Why not indulge in a delightful farm-to-table dining experience with a charming tent nestled among picturesque cornfields?
Savor the taste of authentic Lancaster County cuisine, such as delicious corn-on-the-cob, Pennsylvania Dutch chow-chow, and delectable whoopie pies from the renowned Bird-in-Hand Bakery & Cafe, while creating cherished memories with your loved one.
For unique things to do in Lancaster, PA, for couples, enjoy a cornfield banquet through Bird-in-Hand.com experiences.
3. Bird-in-Hand Village Inn & Suites

Are you looking to spend quality time together in Lancaster? Then you want to stay at the Bird-in-Hand Village Inn and Suites.
You can sign up for a wine-tasting tour when you reserve your room at Bird-in-Hand. Some room amenities include a jacuzzi tub for two and gas fireplaces. Snuggle up with your soulmate when you want romantic weekend getaways in Lancaster, PA.
4. Wine Tasting for Two: Mt. Hope Wine Gallery

While staying at the Bird-in-Hand Village Inn and Suites, head east on Old Philadelphia Pike to the Mt. Hope Wine Gallery, where you and your sweetheart can sample wines like the Intercourse Wine Series: Becky's Blush, Heartland Harvest, Jacob's Choice, and Quilter's Delight.
5. Hiking at Pinnacle Overlook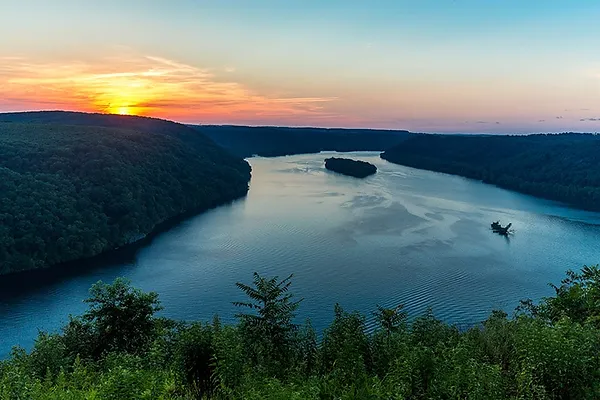 If you're an adventurous couple who wants to see expansive views, you must plan a hike at Pinnacle Scenic Overlook Nature Preserve. This preserve is 139 acres that overlook the Susquehanna River and beyond.
Kellys Run is a popular hiking trail with Lancaster Countians. Other hiking trails are color-coded for your convenience. The Kellys Run Nature Preserve Hikers Map is on the Pinnacle Scenic Overlook Nature Preserve's homepage.
6. Tour Covered Bridges in a Scooter

If you and your beloved want to tour Lancaster farmland and a covered bridge, also known as a kissing bridge, then you want to set up a tour with Strasburg Scooter's Covered Bridge Tour.
You'll enjoy a two-hour ride that takes you and your soulmate to one of Lancaster's oldest covered bridges. Your tour guide will share local history and an introduction to the Amish community as you ride through Lancaster County's countryside.
7. Dine at the Log Cabin Restaurant

One of Lancaster County's most romantic activities is dining at the Log Cabin Restaurant in Leola, PA. The restaurant has a long history, starting as a speakeasy during Prohibition and then as a popular fine dining destination from 1933 to today.
Enjoy farm-to-table dining with locally sourced products made by Chef Painter in one of the 12 dining rooms at the Log Cabin.
8. Visit Lancaster, PA, Gallery Row
Drive into Lancaster City with your special someone and visit Gallery Row along Prince Street. If you're visiting Lancaster City on the first Friday of the month, enjoy Gallery Row from 5 p.m. to 9 p.m.
If you can't make it for First Friday, visit during the Second Saturday of the month, where you can spend the day taking in Lancaster City's incredible art scene.
Gallery Row has eight art galleries along North Prince Street. There are seven other art galleries and museums near Gallery Row, including
Friendship Heart Gallery & Studio on North Water Street
Lancaster Galleries on North Water Street
Mulberry Art Studios on North Mulberry Street
Gallery on Market on East King Street
The Demuth Museum on East King Street
Lancaster Museum of Art on North Lime Street
PAVAA Gallery on North Christian Street.
You can learn more about Lancaster City's art scene at Lancaster City Arts.
9. Take a Private Farmland Tour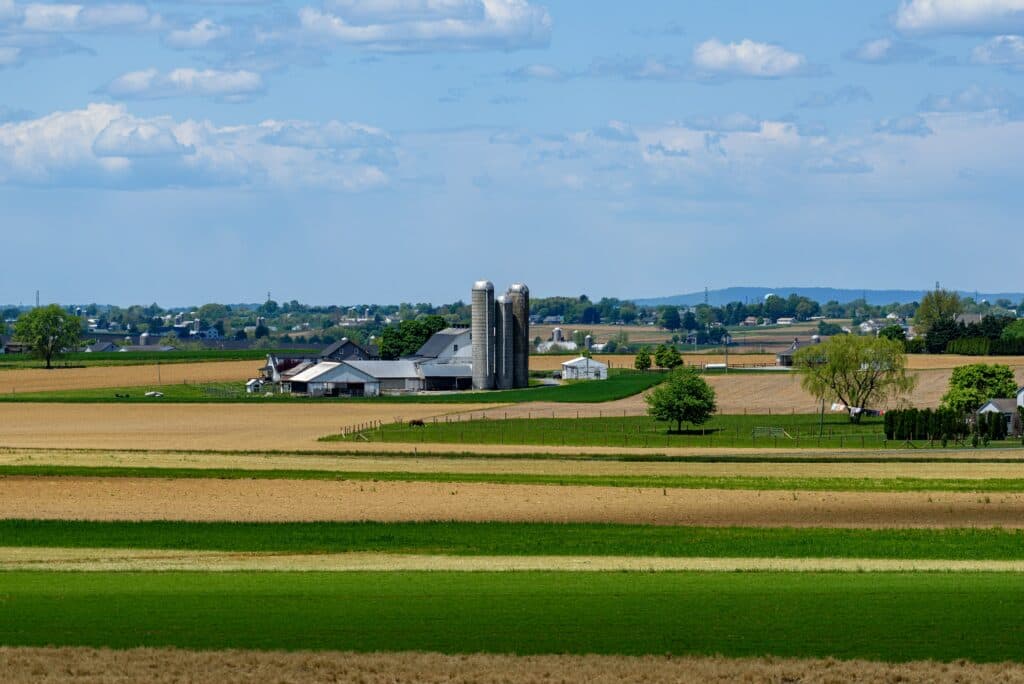 If you and your partner are looking for unique things to do in Lancaster, PA, for couples, you should take a private farmland tour. There are many farms that you can visit, such as
10. Check Out the Arcades Games at Decades

Turn back the clock with your sweetheart and take in bowling, retro arcade games, and a full-service restaurant and bar at Decades in Lancaster City. Enjoy a six-lane bowling alley or play Donkey Kong to your heart's content in the retro arcade.
Decades is located in the 90-year-old, 15,000 sq. ft. Stahr Armory in Lancaster City.
11. Try Out Painting with a Twist

If you love to create art with your loved one, then you want to have a date night at Painting with a Twist. You bring your bottle of wine, and the rest is supplied for you.
12. Get a Couple's Massage at Visage a' Visage's Spa Service

Enjoy the Sweetheart Revitalizer or Pamper Delight for Two at Visage a' Visage Day Spa and Salon, located in an 1800s historic mansion in downtown Lancaster City. The spa service has several couples massage rooms, and you can BYOB to enjoy while relaxing with your special someone.
Planning Out Your Romantic Weekend Getaways
Lancaster County has so many romantic activities; you and your loved one will want to come back time and time again to take in all that Lancaster County has to offer you and your loved one. Start planning your next romantic getaway with one of our romantic flights today!
Still Looking for More Romantic Things to Do in Lancaster, PA?
Lancaster County and the surrounding areas provide many romantic weekend getaways. Read the following blogs to get more ideas for unique things to do in Lancaster, PA, for couples: