How many people have you reached today?
Consider using hot air balloon advertising in your marketing plan and be recognized by millions.
Hot air balloons are magical. Children, adults, seniors – everyone enjoys seeing a hot air balloon. In fact, Kodak suggests that hot air balloons are easily one of the most photographed subjects on earth.
Join the ranks of ReMax, Hershey's, Burger King, Cannon, Ocean Spray, General Motors, and Wal-Mart, and start enjoying the positive buzz and brand recognition that only a hot air balloon can deliver!
The Lancaster Balloon Rides (operated by The US Hot Air Balloon Team) can work with you to create successful advertising for your business. We provide the necessary management expertise and support. You determine the schedule and components of your marketing campaign.
Examples:
In-house promotions
Trade shows
Public relations for key clients or top achievers in your company
Sales: Entertain prospective clients
Other corporate functions, such as team building
National or international events and festivals (including hot air balloon festivals)
Balloon advertising is surprisingly affordable when you consider the impact it can have on brand awareness and visibility. This unique and flexible advertising medium is one of the best ways to make an impression on potential customers and stand out from the crowd.
We provide a turn-key hot air balloon advertising program, including everything necessary to provide a first-class event presentation that brings your company and brand the desired recognition.
Want to know more about hot air balloon advertising in Pennsylvania?

See what our advertisers have to say below or contact us to explore this opportunity for your business branding.
Hot air balloon advertising outside of PA:
We also offer balloon advertising at hot air balloon festivals.
Corporate Branding Testimonials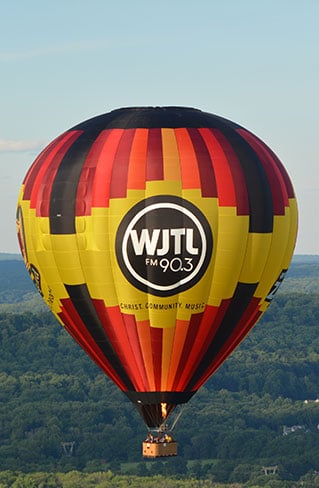 "We are excited to have our logo soaring over our listening community! Listeners love snapping pictures of our balloon and posting them to our Facebook Page. What fantastic promotion!"