Kids Love Hot Air Balloon Rides - Your Event will Soar!
Hot air balloons captivate all who see them, and kids are no exception! Children of all ages love to see balloons, but many have never flown or have even been up close!
A unique fun (and educational) opportunity for Pennsylvania, Maryland, New Jersey, Delaware, and New York:
Birthday parties
Summer camps
Schools
Churches
Community fairs and carnivals
Other community events
Set your event apart with a hot air balloon presentation and tether (the balloon is tied down so it stays on the property).
Our presenters (pilots) are friendly, knowledgeable, and enjoy spending time with kids eager to learn and have fun in this unique format.
Hot Air Balloon Presentation & Tether Activity
There are many reasons to include hot air balloons at your children's events. Here's an example of how the event could go (we're happy to customize it to meet your goals)…
Education and history of the oldest form of aviation in the world
Physics of how different types of balloons function. Hot air balloons, gas, helium/hydrogen how balloons function. Flight characteristics- aerodynamics, thermodynamics, in an enjoyable way
Question and answer interaction between presenter and participants.
Photo opportunity for participants to see themselves in a balloon
Hands-on helping to inflate a hot air balloon
Board the balloon and take a tethered ride 25' to 50' altitude
Hold a contest while, dropping markers from the balloon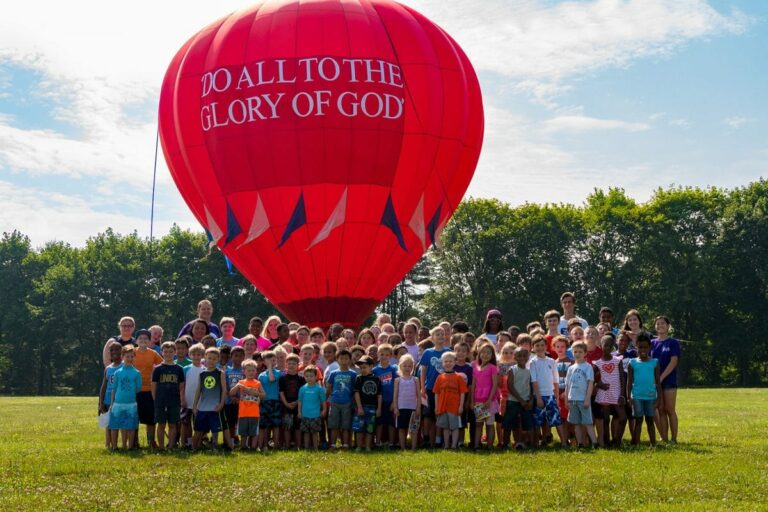 Why Choose Hot Air Balloons?
Lancaster Balloon Rides has provided hot air balloon training and programs for more than 30 years. We exercise all safety requirements in everything we do, are insured, and enjoy a great safety record.
Contact us today to have us come out to your event!
Recent Hot Air Balloon Events for Kids