Whether you're a New Jersey local or are simply planning a trip to the state sometime soon, New Jersey and the surrounding areas have plenty of things to do, explore, and experience. With endless activities to try, New Jersey is a popular destination for vacations, getaways, and day trips. Unsure of what to do during your travels? We have some ideas in mind! 
Learn more about 10 of our favorite unique things to do in and around New Jersey during your next visit or stay.
Top Things to do around NJ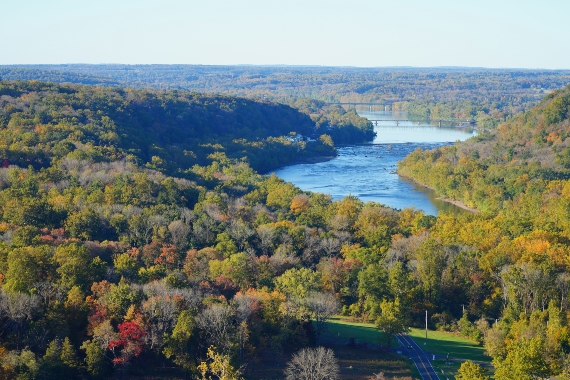 1. Visit the New Jersey State Museum in Trenton, NJ
The New Jersey State Museum was established in 1895 and inspires lifelong learning in art, science, and history. The exhibits cover an extensive range of topics, including prehistoric specimens, cultural artifacts from the 17th century to the present day, and pieces of fine artwork.
Visitors can explore the museum independently, or guided tours are available for individuals and groups. Additionally, guests can participate in one of the museum's many hands-on activities. Guests can also check out the 140-seat planetarium, which also presents sky shows on weekends and school holidays while you're there.
2. Experience a New Jersey Hot Air Balloon Flight
There is nothing like breathtaking views of New Jersey from a new perspective – the sky. The fun starts on the ground in nearby Bucks County, PA when guests sign up for hot air balloon flights over New Jersey. The Lancaster Balloon Rides team schedules balloon launches at sunrise and sunset each day, all year round, which offer incredible views of the New Jersey, Pennsylvania, and Delaware areas. Be sure to bring your camera to snap some photos while you're up there!
3. Float Down the Delaware River
Join Bucks County River Country and explore the waters of the Delaware River. From tubes and rafts to kayaks and canoe rentals, this original Delaware River outfitter in Bucks County, PA, since 1967 has everything you need to explore the waters and more.
If you're looking for a fun day on the river, Bucks County River Country is your one-stop shop for everything you will need for a perfect river trip. Enjoy the great outdoors and relax while doing so. Easy online reservations allow groups of all sizes to join in on the fun.
4. Check Out Battleship New Jersey
Take an in-depth journey through American naval history on a guided tour of this famous battleship, now decommissioned and providing naval history education.
Battleship New Jersey is a former warship and a naval history museum. Join knowledgeable guides and former sailors to learn about the role of Battleship New Jersey in some of the most significant battles fought by the United States armed forces. Climb down companionway ladders to explore the captain's quarters, mess halls, sleeping cabins, and weapon rooms.
5. Take in a Hot Air Balloon Festival
Hot air balloon festivals are becoming more and more popular each year. With incredible views, outside vendors, and the opportunity to view the area from a birds-eye-view, we highly recommend adding a festival visit to the top of your New Jersey bucket list.
Depending on the time of year you visit, you may want to consider three local festivals: the New Jersey Hot Air Balloon Festival, the Philly Balloon and Music Festival, and the Lancaster Balloon Festival. Each festival offers unique activities, is great for all ages, and spans over a few days.
6. Go to Adventure Aquarium
Just across the Delaware River from the Liberty Bell are 15,000 aquatic species on the Camden Waterfront at the Adventure Aquarium. This aquarium is home to fish, penguins, and turtles and is the only aquarium in the world to have hippos on exhibit. Adventure Aquarium is an excellent activity for those with young children, too. The aquarium offers easy parking and friendly staff.
7. Take a Trip to Peddler's Village
Enjoy a quick road trip to Peddler's Village, a storybook village with charming colonial-style buildings, award-winning gardens, and distinctive shopping, dining, and lodging in Bucks County, PA. Visitors have come to Peddler's Village for over 60 years to experience delicious dining, explore the best of Bucks County shopping, enjoy family fun, escape from everyday duties, and celebrate annual festivals and seasonal events galore.
8. Visit Turtle Back Zoo
If you're an animal lover and enjoy interacting with animals at zoos, Turtle Back Zoo is a great spot to visit. Located in Essex County, The Turtle Back Zoo thrives on preserving wildlife while enriching its visitors' experience. The zoo is named for a famous rock formation that resembled a turtle's back, but it has much more to offer than what the name alludes to. The zoo is situated on a picturesque 15 acres of land at the foot of a mountain reservation. It boasts over 800 animals and more than 200 species of wildlife.
9. Enjoy a Hike at Delaware Water Gap National Recreation Area
New Jersey might be the most densely populated state, but it's still home to many sprawling natural areas and outdoor spaces to explore. Hiking, trails, and outdoor lookouts are everywhere you turn in New Jersey.
For some of the best hiking opportunities in the area, we recommend heading to the Delaware Water Gap National Recreation Area. This 70,000-acre park is managed by the National Park Service and has more than 150 miles of trails, including a portion of the Appalachian Trail, several large waterfalls, and three river beaches.
10. Take a Road Trip through Bucks County, Pennsylvania
While in the New Jersey area, take a quick day trip to Bucks County, Pennsylvania. Bucks County offers scenic countrysides, history, the arts, downtown charm, miles of vineyards, gourmet dining, small-town villages, award-winning accommodations, and so much more. With something for everyone like the Ale Trail, Parx Casino, and Sesame Place Philadelphia, adventures are endless in this beautiful area.
Plan Your Next Adventure Today!
Ready to get a better view of the beautiful New Jersey state and all it has to offer? Book your next hot air balloon ride adventure now.