Valentine's Day is almost here, and that means you may be looking for some unique and fun activities to enjoy with your loved ones. While these romantic activities make a perfect Valentine's Day date, you can enjoy them any time of the year!
Whether you're planning a romantic hot air balloon ride or looking for local outings for two in Lancaster County, PA, make sure to check out these ideas and start booking your attractions today! Learn more about the top 10 things for couples to do in Lancaster, PA, and add them to your list of activities to try!
Romantic Things to Do in Lancaster County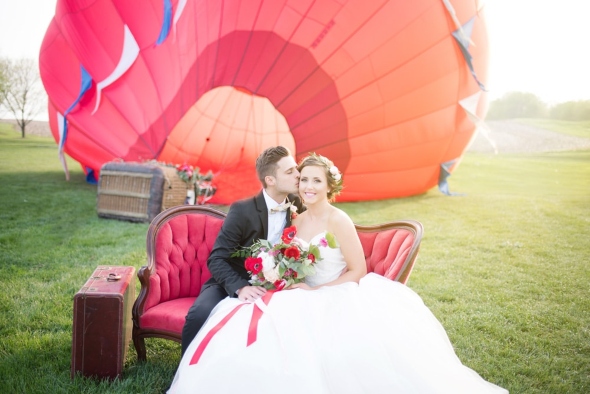 Visit the Historic Smithton Inn & Restaurant
Located in historic Smithton, Pennsylvania, just outside of Lancaster, this inn offers cozy and inviting lodging in the heart of Amish country. Grab a pet-friendly room, enjoy a king-sized suite, or cozy up in a private cottage. Each Amish-designed room features handcrafted furniture and period antiques.
Guests can enjoy a complimentary breakfast buffet, evening hors d'oeuvres, and delicious desserts. Live music and wine tastings in their on-site wine bar are also available.
Enjoy a Romantic Dinner at the Country Kitchen
Enjoy a gourmet dinner at this award-winning Country Kitchen located in downtown Lancaster. For more than 30 years, Chef Jim Sauer's culinary creations have been praised throughout the region. His menu features braised pork tenderloin with wild mushrooms and roasted root vegetables, chicken pot pie, and fresh seafood. If you are looking for a home-cooked meal, Country Kitchen will not disappoint.
Have a Romantic Adventure at Refreshing Mountain
If you and your partner love outdoor adventures, Refreshing Mountain is the place for you.
Refreshing Mountain is a year-round, non-denominational, Christian Retreat Center in Lancaster County, PA, built on 80+ acres of beautiful Pennsylvania woodland. Enjoy a fun and relaxing evening or weekend away at Refreshing Mountain, full of adventure and relaxation. Unplug, bond with your partner, and take in the scenic surroundings.
Take a Hike at the Susquehannock State Park
Located in beautiful Drumore, PA, the Susquehannock State Park Complex comprises four properties along the scenic Lower Susquehanna River. The 224-acre Susquehannock State Park is on a wooded plateau overlooking the Susquehanna River in southern Lancaster County.
Besides the outstanding views, the park offers a variety of recreational opportunities for year-round fun. With lots of hiking trails, lookouts, and beautiful scenes to take in, this is an excellent activity for the outdoor lover.
See a Concert at the American Music Theatre
The American Music Theatre is the only theatre in the country that features both touring concerts and original shows. With the variety of concerts and viewing opportunities available, you are sure to find something for everyone at AMT, from Broadway tours to rock legends to famous comedians and today's hottest acts.
Take the opportunity to catch a show in the comfort of one of the most premier venues on the East Coast for live entertainment.
Explore the Amish Countryside on Scooter
Strasburg Scooter Tours offers guided tours of the Amish Countryside on 2 and 3-wheel scooters. Their guides have a vast knowledge of the area, and you are sure to learn something new while exploring the picturesque county. Guests enjoy a guided covered-bridge Amish tour through the back roads and farmlands of Amish Country.
Ride alongside horse and buggies and past Amish schoolhouses with an experienced guide to lead you along the way. Strasburg Scooter Tours strives to provide first-class customer service while offering guests the opportunity to experience the area and take in its beauty. Tours begin in March and run through November each year.
Attend a Show at the Bird-in-Hand Stage
Sit back, relax, and enjoy a show! Whether you live in Lancaster County or are just here for a visit, the Bird-in-Hand Stage makes it easy to enjoy wholesome, high-quality live musicals and more, right in the heart of Amish Country. Plan your visit to Bird-in-Hand Stage to include dining, entertainment, and a memorable theatre experience with friends and family. This is the perfect fun indoor activity for couples who love to be entertained.
Dress Up and Hit the City for Dinner
If you prefer an intimate date activity for you and your partner, dinner in the city offers something for everyone. With cuisines available from all over the world in the heart of the city, whatever flavors you're looking for, you can find. From four-course meals to cocktails and apps, the food experiences in Lancaster are endless.
Learn About the Amish Culture at The Amish Experience
The Amish Experience is the perfect activity for those who love history and learning. Like a museum for Amish history, The Amish Experience offers in-person tours, opportunities to explore farmlands, Amish theatre productions, and more. The season begins March 12, 2022, so start planning your Amish Experience now!
Romantic Hot Air Balloon Rides
If you've never experienced the momentous event of riding in a hot air balloon with the ones you love, now is the perfect time to sign up. A hot air balloon ride is so much more than just a quick flight up in the air, standing in a basket. It is a memorable bonding experience for you and those you ride with, taking in breathtaking views of Lancaster County and sharing the special occasion with your partner up above the sky. Lancaster Balloon Rides is so thrilled to be part of your adventure!
Surprise Your Loved One
Few things in life compare to the thrill and level of excitement that a hot air balloon ride provides. Surprise your loved one with a lifetime memory aloft in a beautiful, romantic hot air balloon ride this Valentine's Day. Book your flight now!