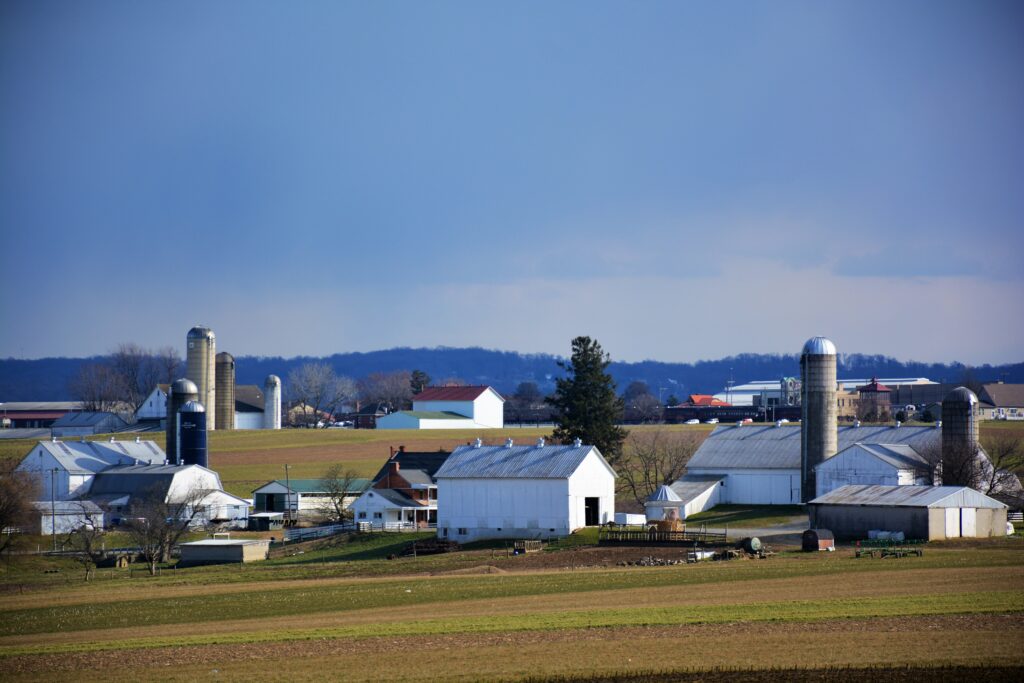 Are you seeking an extraordinary weekend getaway that seamlessly blends history and adventure? Look no further than Lancaster County, PA.
Nestled in the heart of Pennsylvania Dutch Country, this captivating destination offers many things to do in Lancaster, PA, this weekend.
Immerse yourself in a tapestry of adventure as you explore the rich heritage, embark on thrilling outdoor escapades, and indulge in unforgettable experiences. Get ready for a weekend in Lancaster that will leave you longing for more.
Things To Do in Lancaster, PA, This Weekend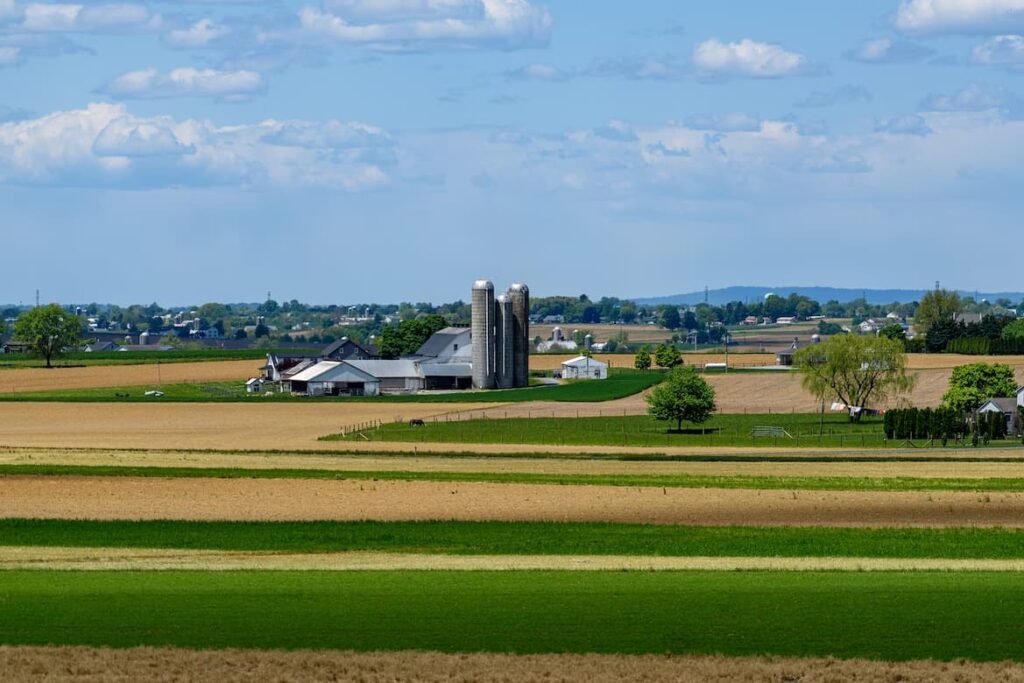 Imagine a picturesque weekend in Lancaster County, PA, where rolling green hills and charming patchworks of farmland create a serene backdrop.
Two hours away from New York City, Philadelphia, and Washington, DC, Pennsylvania's Lancaster County scenic haven owes its rustic beauty to the Amish community.
Since they arrived in the 1700s, the Amish have diligently cultivated these fields using traditional methods, preserving a slice of history untouched by the modern world.
Pennsylvania Dutch Country is renowned for its captivating attractions and diverse activities that offer an escape from everyday life.
Enjoy touring farmland and backroads or taking a buggy ride to see the sights that Lancaster Countians see in everyday life.
Hot air balloon rides, taking a zipline over Lancaster County woodlands, and tasting many different flavors at Lancaster Central Market and Kitchen Kettle Village will make you want to visit this area many times. 
Whether you're seeking an unforgettable weekend getaway or a break from the mundane, Pennsylvania Dutch Country promises to surround you with the wonders of nature and cherished traditions.
Getting to Your Lancaster Weekend Getaway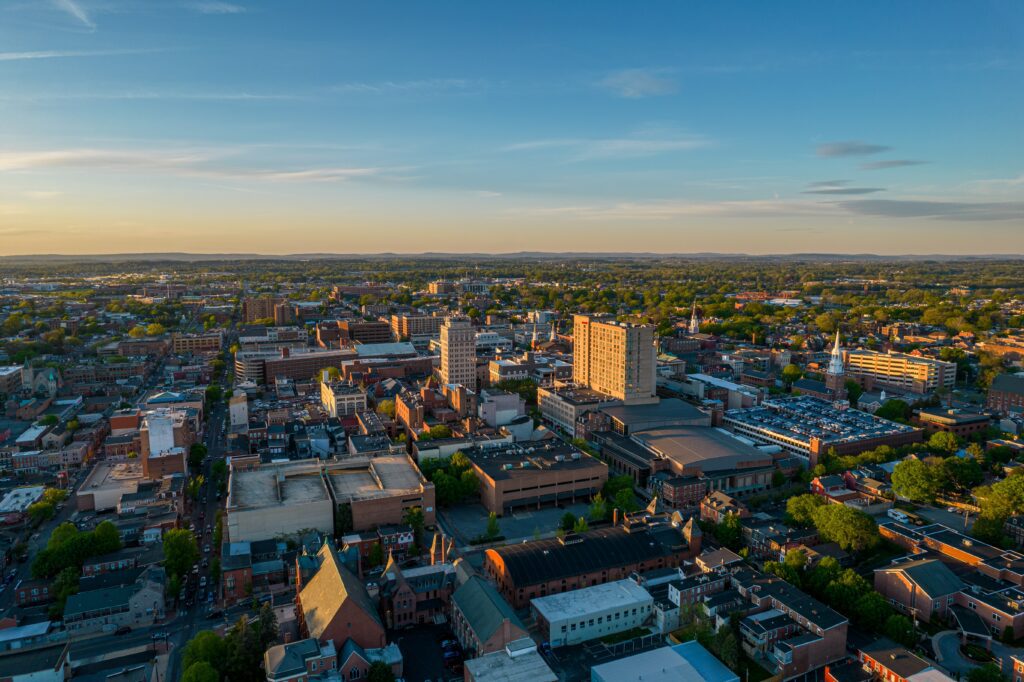 While you can travel to Lancaster Country via Amtrak or fly into Lancaster Airport, you'll need a car to get around Pennsylvania Dutch Country.
If you drive your car, Lancaster County is within easy driving distance from Philadelphia (90 minutes), Baltimore (2 hours), New York City (~2.5 hours), and Washington, DC (~2 hours). If you're from Baltimore or Washington, DC, the most direct way to Lancaster County is to take I-83 from Baltimore.
If you prefer country roads and aren't in a hurry, take the scenic route following I-270 to U.S. 15 to U.S. 30, adding extra ~30 minutes to your trip.
If you're coming from Philadelphia, find your way to the PA Turnpike and get off at the Reading or Lancaster/Lebanon exit, depending on your weekend in Lancaster. And for you New Yorkers coming for a Lancaster weekend getaway, hop onto I-95.
Fun Things To Do in Lancaster This Weekend
If this is your first time visiting Pennsylvania Dutch Country, remember you won't be bored on your weekend trip. We'll break down the many Lancaster things to do this weekend into three sections: places to stay, things to do, and places to eat.
Places to Stay for a Lancaster Weekend Getaway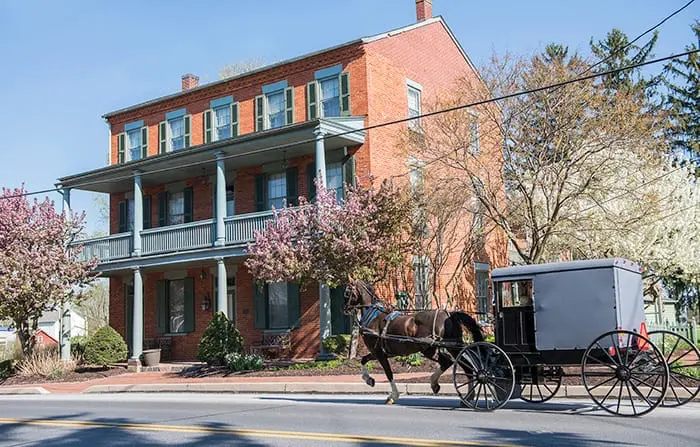 You have many choices when planning your overnight Lancaster weekend getaway in Pennsylvania Dutch Country. Here are some favorite places to stay as your home away from home:
This upscale inn is located in Bird-In-Hand, PA. You'll see farmland from your hotel room window. TripAdvisor named AmishView Inn & Suites as Lancaster's #1 hotel; Reader's Digest called AmishView Inn & Suites as Pennsylvania's #1 hotel; and Trivago named the inn and suites a #1 3-star hotel in America.
Did you know that Lancaster Hot Air Balloon Rides is located near Bird-in-Hand Village Inn & Suites? You can stay at the Village Inn & Suites, eat a quick breakfast, and be up in the air without driving miles to the launching site.
Stay in Bird-In-Hand, a quaint town along Route 340, at the upscale Village Inn & Suites that boast 24 rooms and suites, including a complimentary deluxe continental breakfast every morning.
Wake up to horses' hooves clip-clopping along Route 340 as the Amish go about their everyday life. You're also close to Lancaster City, where you can visit Lancaster Central Market.
If you prefer pampering after a long day of sightseeing and antique shops, you want to stay at The Inn & Spa at Intercourse Village.
This boutique hotel features three rooms in the main house and nine suites. Every morning you can enjoy breakfast made by Carl Kosko, innkeeper and chef. He uses local ingredients to ensure you sample Lancaster County's bounty.
Situated along Route 23 and about 20 minutes from Lancaster City, The Inn & Spa at Leola Village promises you the perfect escape while staying in Lancaster County. Enjoy the 4-star spa and wellness packages at The Inn & Spa at Leola Village, and savor unique flavors at the inn's restaurant.
Suppose you're planning a family weekend in Lancaster. In that case, you want to stay in one of Lancaster or Hershey's hotels: Springhill Suites, Hilton Garden Inn Lancaster, Fairfield by Marriot, or Homewood Suites by Hilton.
All four hotels are close to Lancaster and Hershey attractions, such as Lancaster Hot Air Balloon Rides, Hershey Park, Lancaster Central Market, Strasburg Scooters, and other Lancaster County attractions.
If you're visiting Pennsylvania Dutch Country with your family, you want to book your stay at Refreshing Mountain Retreat & Adventure Center.
At Refreshing Mountain, you can sleep in one of their hotel-style rooms or rustic cabins. Enjoy the camp's various family-friendly outdoor adventures, including ziplining, swimming, and taking a tour of their wildlife center.
If you're visiting Ephrata and Lititz, you may want to stay at Twin Pine Manor Bed and Breakfast on 322, west of Ephrata. This upscale country bed and breakfast boasts nine guest rooms with Jacuzzi tubs, fireplaces, and a 3-course breakfast in the dining room.
Things to Do in Lancaster, PA, This Weekend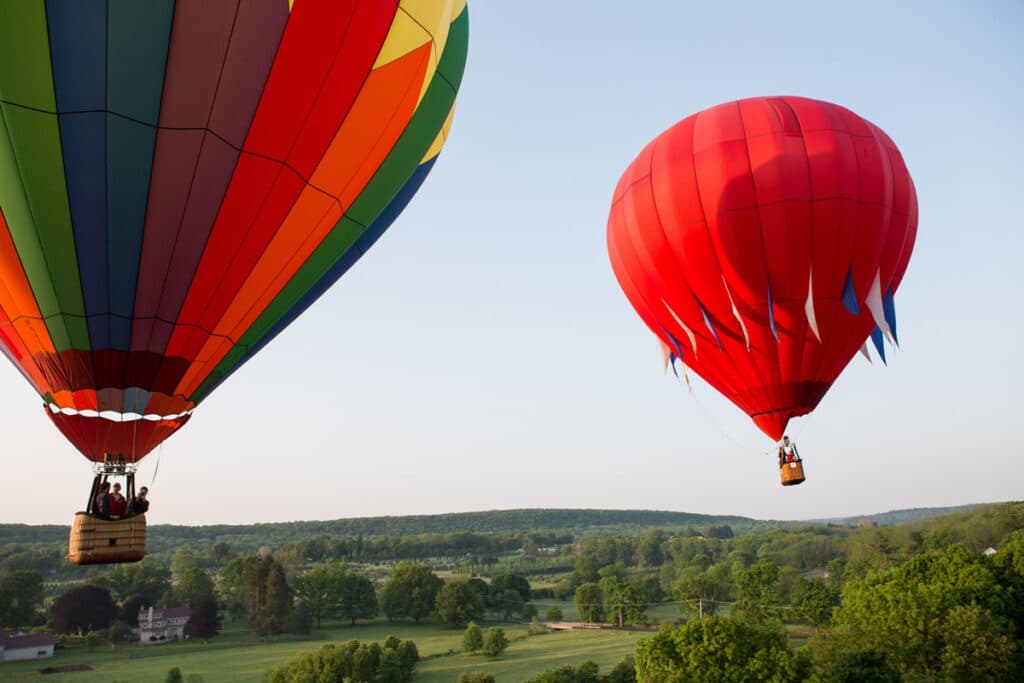 Lancaster County provides plenty of places to enjoy the outdoors, learn history, and go shopping. Here are popular activities to take in during your Lancaster weekend getaway.
If you want to experience the everyday life of the Amish, take a horse and buggy ride with AAA Buggy Rides. Enjoy buggy rides in a traditional Amish buggy. There are three tours to choose from: country buggy ride, covered bridge ride, and Amish farm tour.
If you love antique shops, visit Cackleberry Farm Antique Mall in Paradise, PA. The antique mall has many stands where you can find vintage Christmas, old-time general store, and other collectibles within 26,000 sq. ft. of antiquing space.
Fly high above Pennsylvania Dutch Country to catch a view of the farmland that looks like a verdant quilt.
Go up a mile in the air as you gently drift through the sky. Lancaster Hot Air Balloon Rides are perfect for anyone wanting to take in pristine views of Lancaster County or to pop the question while overlooking farmland.
Enjoy a waffle cone of homemade ice cream, tour the Jam and Relish Kitchen, sample pepper and fig balsamic jams, and shop til you drop by one of their upscale shops. Kitchen Kettle Village is located in Intercourse.
Lancaster Central Market, located in Lancaster City, is the oldest continuously operated farmers' market in the U.S. Get up early and market like many Lancaster Countians. There are many stands to visit, from bakeries to dairy, local farm produce, to ethnic food to choose from at Lancaster Central Market.
Take a steam train ride through the Lancaster County countryside as you travel 2,500 acres of farmland. The railroad is the nation's oldest operating railroad, with steam locomotives in Strasburg, PA.
Tour the backroads of Lancaster County to get a peek into the everyday life of Amish and Mennonite farmers. Strasburg Scooters provides scooter tours in Bird-in-Hand and Strasburg.
Places to Eat in Lancaster County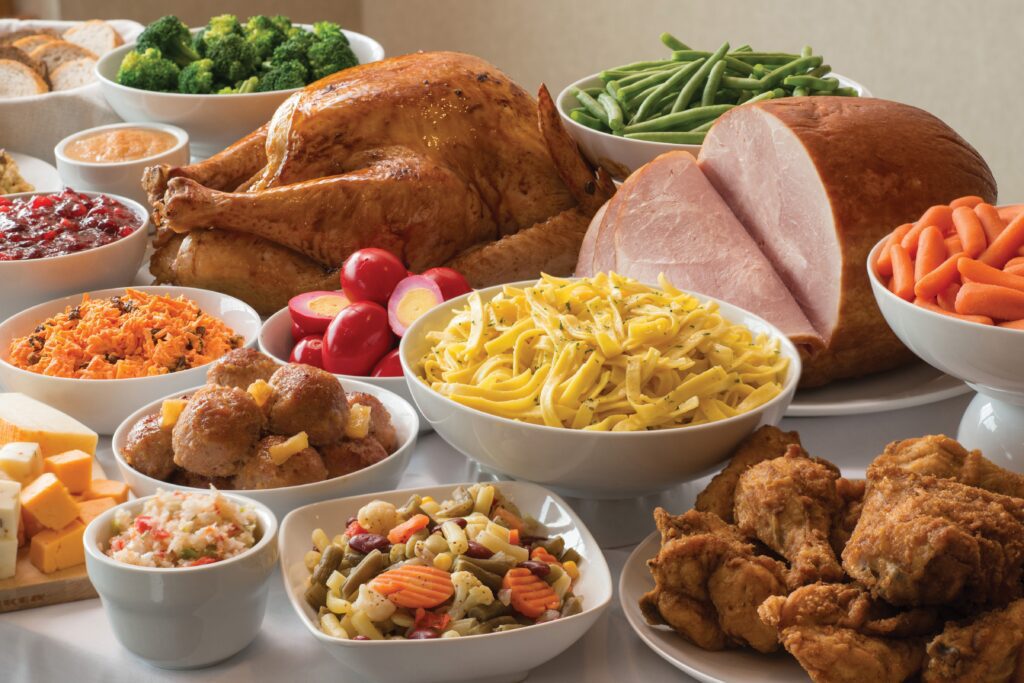 Regarding the captivating scenery of Pennsylvania Dutch Country and the abundance of lodging options in the area, nothing can surpass the culinary delights found in Lancaster County.
Start your day off right with breakfast at Bird-in-Hand Bakery. The menu has Pennsylvania Dutch Country staples, such as baked oatmeal and the Farmer breakfast, which includes eggs, ham, and bacon. Grab pies, cookies, and cakes on your way out if you have a sweet tooth.
Enjoy an Amish-style buffet or order from the Bird-in-Hand Family Restaurant & Smorgasbord menu. The smorgasbord has various Pennsylvania Dutch Country favorites, such as baked ham, broasted chicken, ham balls, buttered noodles, red beet eggs, and chow-chow.
You can't get more authentic with your dining experience than participating in a Cornfield Banquet. You and your family will be nestled near a cornfield under a tent. You'll enjoy corn-on-the-cob and barbequed chicken at this feast.
Whether you're visiting Refreshing Mountain or Bird-in-Hand, stop by Fox Meadows Creamery in Ephrata and Leola. Their uniquely flavored ice cream is made fresh from their cow herd's milk. Savor treats, such as the Baked Fox, Roasted Milkshake, or their Simply Strawberry ice cream dish.
More Weekend Experiences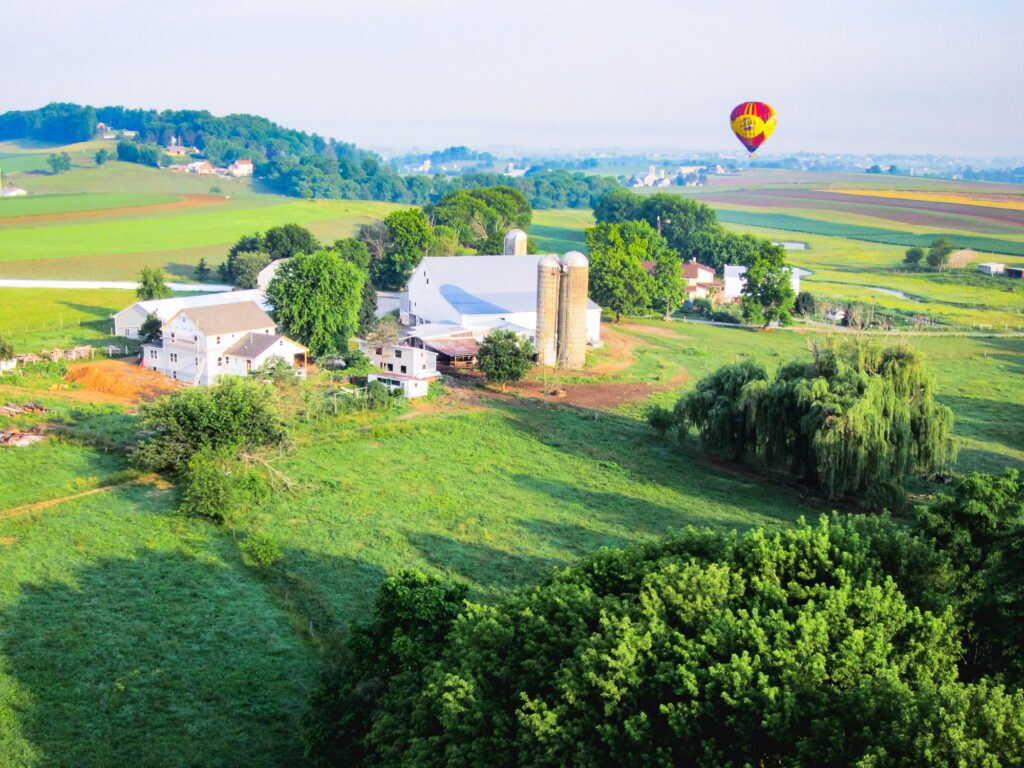 Summertime in Lancaster County, PA, means adventure and enjoying the many places to visit in the city and the countryside. There are even more places to take in and Lancaster things to do this weekend. The fun always starts on Friday night and lasts through Sunday.
Make Lancaster County Your Go-To Weekend Getaway
Located near major cities such as Washington, DC, Baltimore, New York City, and Philadelphia, Lancaster County, Pennsylvania, is a popular destination for weekend getaways during the summer. Have you considered making a habit of exploring the captivating Pennsylvania Dutch Country? There are numerous thrilling activities, such as hot air balloon rides and various other exciting adventures throughout the summer. Book your weekend getaway adventure today!