Nothing spells adventure like visiting Lancaster, PA with your family. You won't be disappointed if you're looking for things to do in Lancaster, PA with kids.
We have plenty of indoor and outdoor activities to please the entire family, from hot air balloon rides to miniature golf to an Amish buggy ride. Plus, there are plenty of fun things to do in Lancaster, PA, rain or shine.
Fun Outdoor Activities to Do with Kids in Lancaster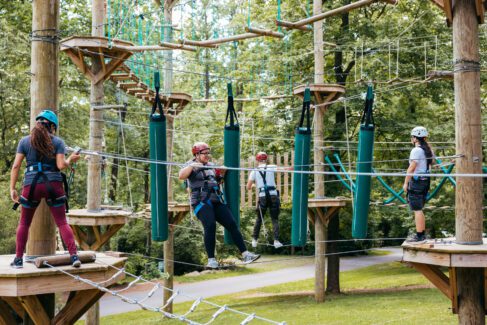 Fall is a beautiful time to visit Lancaster, PA. Cool days and crisp nights make family fun worth the visit, whether visiting an orchard to pick apples or doing other family-friendly things.
Here is a list of fun things to do in Lancaster, PA with kids if you're looking for an outdoor activity:
Amish Buggy Ride
Experience Amish life by taking an Amish buggy ride. This fun activity will allow your family to unplug and see what life's like as the horse clip-clops down country roads in Lancaster County.
Popular Amish buggy ride experiences include A is for Amish Buggy Rides, AAA Buggy Rides, Aaron & Jessica's Buggy Rides, and Abe's Buggy Rides.
Lancaster Balloon Rides
If you're looking for an adventure of a lifetime, book a hot air balloon ride for the ultimate family fun. You and your family will fly in the sky while overlooking a patchwork of farms, woodlands, and quaint towns.
Brecknock Orchards
In Northern Lancaster County, you and your family can pick your favorite seasonal fruits at Brecknock Orchards. Visit during their fall festivals to enjoy kid-friendly activities, pick apples, pumpkins, and gourds, and take a wagon ride orchard tour.
Cherry Crest Adventure Farm
Spend the day at Cherry Crest Adventure Farm, where you can experience plenty of family-friendly things. Explore the Amazing Maize Maze, Baby Chick Hatchery, Discovery Barn, pedal carts, Hay Chute, Apple Blasters, Farm Animal Center, and more.
Chiques Rock Outfitters
Rent bikes, kayaks, and paddle boards at Chiques Rock Outfitters to enjoy a peaceful day on a rail trail or the Susquehanna River. You can sign up for special packages for a day of family fun.
Corn Cob Acres: Field of Fun
If you're looking for a fall outdoor activity, head to Mountville in September through October to enjoy various fun things to do at Corn Cob Acres: Field of Fun, such as
Animal Barrel Train
Bat Cave
Bean Bag Animal Knockdown Game
Cornfield Trail
Cow Belly Inflatable Bounce
Cow Milking Station
Giant Bag of Candy Corn
Pig Races
Spider Web Traverse
And much more.
Dutch Wonderland
Dutch Wonderland is celebrating its 60th anniversary in 2023, and to celebrate, they're open through January 2024.
Happy Hauntings starts on September 30th at Dutch Wonderland with friendly ghosts, ghouls, and jack-o-lanterns. This is a fun family event for all kids, from young to old. Enjoy 30 spooktacular-themed rides and end your night on the dance floor with Duke.
Hans Herr House and Museum
The Hans Herr House and Museum is an 11-acre museum that includes a Native longhouse replica, historic farmhouses, barns, a blacksmith shop, the oldest Mennonite meeting house in the Western Hemisphere, a smokehouse, an outdoor bake oven, and more.
Landis Valley Farm Village and Museum
Go back in time with your family at the Landis Valley Farm Village and Museum, where you learn about early Pennsylvania German life by visiting historic buildings, learning about the daily life of the Pennsylvania Germans, and enjoying the museum grounds.
You and your family can visit the Erisman House, a tavern, a gun shop, a firehouse, a tin shop, a general store, a schoolhouse, the farm machinery and tool building, and so much more. Expect two to three hours to tour the farm village.
Old Windmill Farm
Enjoy a fun activity on a working Amish farm at Old Windmill Farm. You have three family fun outdoor activities through October: the Farm Tour, the Farm Fun Combo, and the Farmhand Tour.
If you're looking for a fun indoor/outdoor activity this fall, consider the Amish Fall Farmhouse Experience, where you make fresh apple cider, bake bread, churn butter, and sit down as a family to enjoy your creations.
Refreshing Mountain
If your family loves fun things to do in Lancaster, PA, you must visit Refreshing Mountain in northeastern Lancaster County. All ages are welcome to spend the weekend in one of their apartments or cabins.
Children as young as five can enjoy the ziplines that race across the treetops, visit the wildlife center, play in the playground, and enjoy the other family-friendly things available at the campground.
Strasburg Rail Road
This fall, have a day out with Thomas the Tank Engine at the Strasburg Rail Road when the friendly tank engine takes your family on a 45-minute ride through Lancaster County farmland. Thomas' friend, Percy, will also participate in this fun activity.
Village Greens Miniature Golf Course
Head to the Village Greens Miniature Golf Course after your Strasburg Railroad experience to enjoy another outdoor activity. This miniature golf course is open until the end of October. The Village Greens has two courses for you to choose from.
Things to Do in Lancaster, PA with Kids: Fun Indoor Activities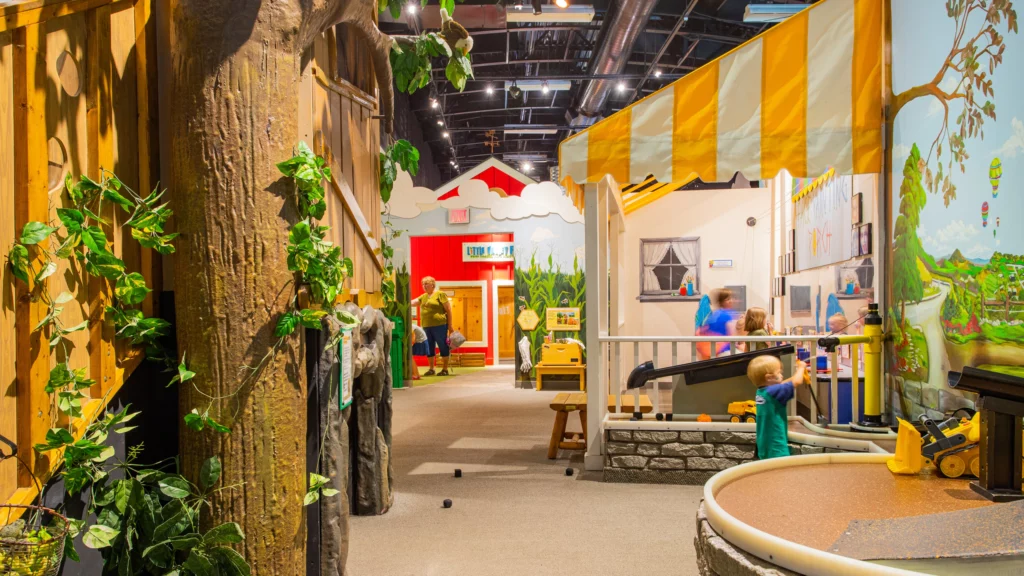 Don't pack your bags and go home when there are rainy days in Lancaster, PA. Instead, check out the following indoor activities, including interactive exhibits that will keep your kids entertained for hours on a drizzly day.
Choo Choo Barn
From little ones to adults, the Choo Choo Barn offers a 1700 sq. ft. model train layout showcasing 150 hand-built animated figures, vehicles, and 22 operating trains. The Choo Choo Barn provides family-friendly things to do that will mesmerize kids of all ages.
Go 'N Bananas
Off Route 30 in Lancaster, Go 'N Bananas has fun indoor activities for toddlers through adults.
Little ones can enjoy the Toddler Zone with creative play that ignites their imagination while older kids and teens take in the ropes course, mini bowling, and ballocity. Teens and adults will like the XD Theater and the Game Zone.
Hand-on-House
If you're looking for interactive exhibits for your kids, ages 10 and under, visit the Hands-on-House in Lancaster, PA, near Landis Farm Village Museum. It's a perfect place to visit on a rainy day or whenever you want a break from an outdoor activity.
Interactive exhibits include Little Valley Farm Market, Little Valley Farm, Robotic Arm & STEM Lab, Amazing Airways, and much more!
Lancaster Science Factory
The Lancaster Science Factory is another hands-on museum with many interactive exhibits, including many STEM activities perfect for kids from Pre-K through 8th grade and their parents.
A typical visit lasts two and a half hours and includes fun activities, such as
75 interactive exhibits
Each fun activity incorporates one STEM topic with simple instructions and prompts
Hall of Heroes features heroes and pioneers in Science, Technology, Engineering, and Math.
Turkey Hill Experience
If your family is screaming for ice cream, head to Columbia and the Turkey Hill Experience. Family-friendly things to do include creating your own virtual ice cream flavor, milking mechanical cows, starring in a Turkey Hill commercial, and so much more.
Your Kids Won't Be Bored with the Fun Things to Do in Lancaster for Families
You can enjoy Lancaster County with your family because of all the fun things to do in Lancaster, PA, with kids, rain or shine. There are plenty of indoor and outdoor activities to keep your family entertained and learn more about Amish life. Do you want to see Lancaster County up high in the sky? Then, you must sign up for a hot air balloon ride with Lancaster Balloon Rides. Book your flight today!